Android
native/installable application
DOWNLOAD from LiveScore.com
Version 2.1.4, released Apr 24, 2015
Building on the success of our LiveScore Android Web Application , we are now excited to announce the release of our new Android Native Application.
The features and functionality of both applications are similar however the main difference is that the Web Application is an optimized mini-website while our new Native Application can be installed directly on your Android mobile - first it needs to be downloaded from the Google Play (formerly Android Market).
We have therefore decided to go one step further in offering you installable application that runs natively on your Android enabled mobile phone and as such is easier to use, more responsive, with optimized and minimal data transfers.
The new LiveScore native application is currently available for free download directly from LiveScore.com.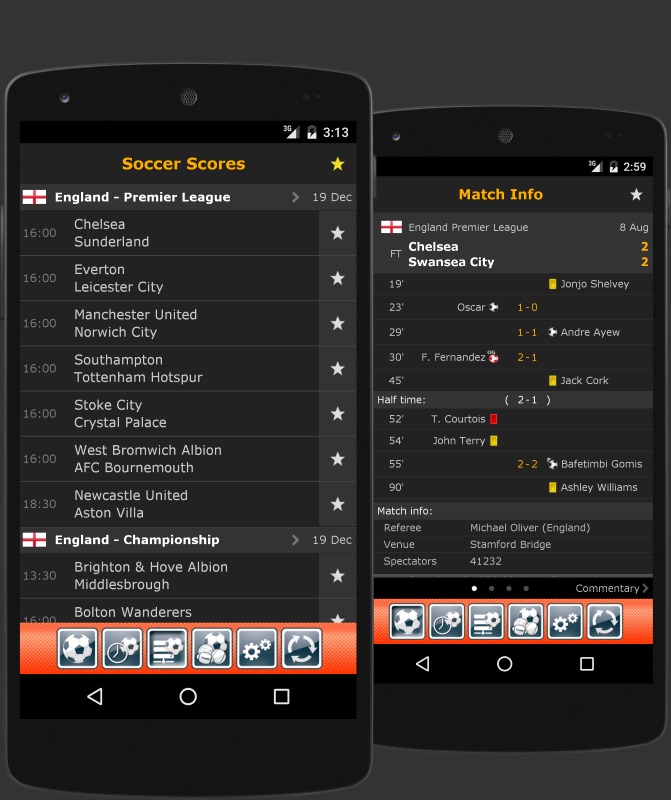 Android, Android Market, Play Store & Google are trademarks of Google Inc.

Champions League Android
native/installable application
LiveScore Champions L. Android app on Google Play store has been suspended. We are currently working with Google to resolve the issue and restore the app as soon as possible.
In the meantime the app can be downloaded directly from LiveScore.com
Once the app is downloaded on your device, you can tap on it and follow the instructions to install it.
DOWNLOAD from LiveScore.com
Version 1.0.3, released Apr 15, 2015
UEFA Champions League live soccer / football scores, live group tables and more, directly from the source, the 1st live score service on the Internet, powered by LiveScore.com since 1998.
The Champions League application comes directly from LiveScore Ltd., the leaders and inventors of real-time delivery of live sport data and owners of the no.1 ranked football / soccer web site globally.
Enjoy the excitement of LiveScore Champions League on your Android enabled device same way that 45 million users are enjoying our existing online services every month, and become part of our network.
You can all now enjoy UEFA Champions League in more detail on our latest product, the LiveScore Champions League App.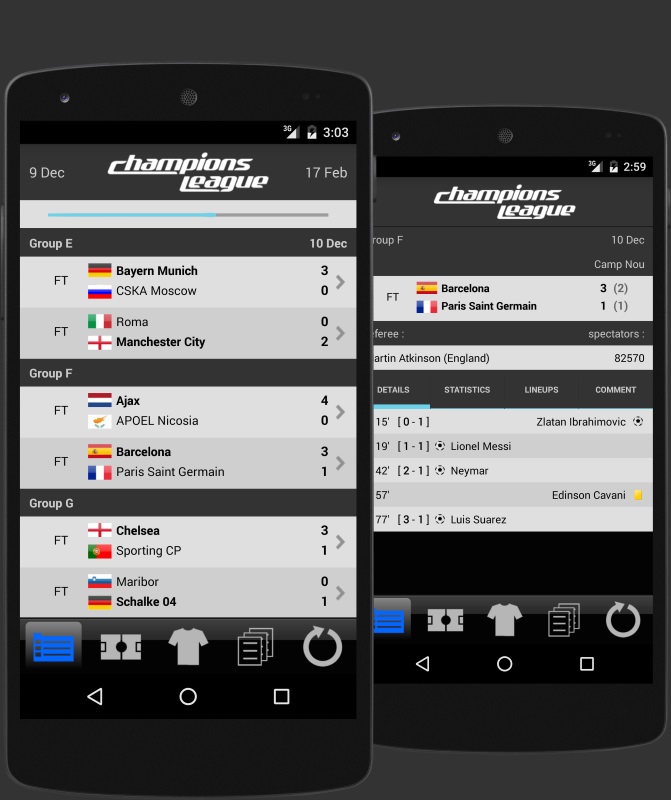 Android, Android Market, Play Store & Google are trademarks of Google Inc.

Android
web application
To access LiveScore.com and our real-time score service wherever you are with your Android, connect to :
Android Web Application is an optimized mini-website. This version was designed for Android and as such may not display correctly in some browsers. For best experience use your Android built-in browser.